Troll Collection Note Cards
Six notecards with white envelops are sold together in a package. The images on the cards include: The Tourist Troll, Troll Collection, Accordion Player, The Carp Carrier, Gardener Troll, and The Peddler.
Price: $10.00, Package of 6
Size: 5 x 7 inches
To read more about the life size original trolls, located on the Mount Horeb Trollway, visit the Field Guide to New World Trolls, Troll Spotter List.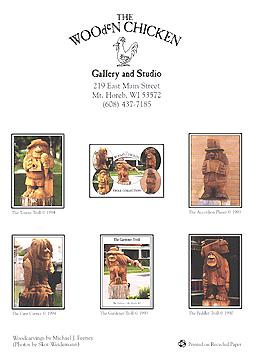 Notecard Package Insert